Odors are becoming a growing concern as cities encroach on plants. They are said to lower citizens' quality of life by cumulative odor exposure that could degenerate in an odor annoyance. As a matter of fact, odors are the main pollution perception vector with dust and noise. In numerous areas they are responsible for 70% of air quality complaints. With urban sprawl plants face the challenge of operating with always closer neighbours that rightfully ask for a good quality of life.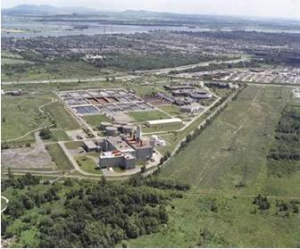 The WWTP of Montreal was build in the middle of grazing.
Now the plant is surrounded by housing developments, a golf course and a park.
The World Health Organization (WHO) definition for Health is:
Health is not only an absence of disease but a full state of complete state of physical, mental and social wellbeing.
Health is a state of complete physical, mental and social well being and not merely the absence of disease or infirmity. 2. The extent to which an individual or a group is able to realize aspirations and satisfy needs, and to change or cope with the environment. Health is a resource for everyday life, not the objective of living; it is a positive concept, emphasizing social and personal resources as well as physical capabilities. 3. A state characterized by anatomic, physiologic and psychological integrity; ability to perform personally valued family, work and community roles; ability to deal with physical, biologic, psychological and social stress a feeling of well-being; and freedom from the risk of disease and untimely death. 4. A state of equilibrium between humans and the physical, biologic and social environment, compatible with full functional activity.
According to the World Health Organization:
Odor annoyance affects the quality of life, therefore the social wellbeing dimension of the health;
The nuisance threshold level is defined as the concentration at which not more than a small proportion of the population (less than 5%) experiences annoyance for a small part of the time (less than 2%);
Concentration, frequency and location must be evaluated.
Indirect potential health effects exist via annoyance stress & reduction in the quality of life: The social dimension of Health.
This emphasizes the importance of good quality Odor studies and odor impact assessments which use olfactometry measurements following recognized standards (EN13725). Evaluating the off-site odor concentration distribution, at the percentile 98,is a good indicator of the nuisance threshold level defined by the WHO (less than 2% of the time).
Continuous odor impact systems can also be great tools to set up operational odor thresholds not to be exceeded.  There was an interesting case study presented at the A&WMA Annual Conference & Exhibition 2009 (ACE 2009 Detroit) about how a small WWTP located in a touristic costal community was able to do proactive odor management and preserve the quality of life using an OdoScan system : Odor Monitoring – Integrated management of odor nuisance in a tourist region.