Odor Management Innovation is not commonly found. It was the summer of 2009 that Pima County became the first U.S. wastewater treatment plant to innovate with OdoWatch®, the real-time odor monitoring system.  Since then, this southern Arizona utility has been able to collect data regarding the impact of their operations on neighbors – and now they applied the technology to more facilities.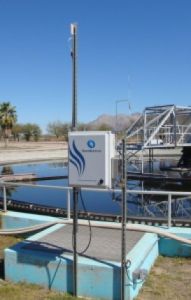 eNose monitoring clarifiers at Roger Road WWTP
Using OdoWatch, Pima County has been able to see how odors created by treatment of waste at the Roger Road Wastewater Reclamation Facility, when combined with atmospheric conditions, travel and impact nearby residents.  They have learned about what weather conditions can be troublesome, and they have also been able to keep watch over monitored processes to see where investments will pay off the most in reduced odors.
One of the many features of OdoWatch is the "alert points," which enable the utility to put up to 200 specific addresses into their system, so they can track the places where odors are most often a problem.  Each time an alert point has an odor greater than normal tolerances, a warning is sent to the plant operator, and they are the first to know.  Often, they are able to correct the situation before anyone off-site even knows there is a problem.  This proactive tool for odor management is intended to improve community relations by eliminating odor complaints.  It serves as an early warning system that enables the staff at the plant to make quick changes when they are needed.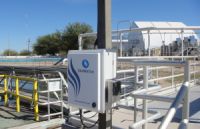 Was the OdoWatch system worth the cost?  According to Dennis Froehlich, System-wide Odor Control Team Leader for Pima County, "I wish that my Department had invested in OdoWatch before it had invested over seven million dollars in odor control systems that did not solve the odor problem. I am sure that the investment in odor control would have been focused and prioritized properly."
Screenshot of odor plume from Roger Road's OdoWatch system
The Roger Road plant, which was over 50 years old, was recently replaced by a new, state-of-the-art plant, and it is also monitored by OdoWatch.  Pima County has found the data from OdoWatch so useful  for odor management, and the comfort of their neighbors, that they are planning to equip more plants with it.
Pima County has published numerous papers on Odor management based on OdoWatch. The latest is titled: Are odor plumes additive in term of odor concentration. Click on the button below to read it.