In 2013, the City of Seattle issued a Request for Proposals for the processing of its residential SOO stream (about 90,000 tons/year). The city awarded a portion of the contract to Lenz Enterprises. The new contracts went into effect on April 1, 2014. The Lenz composting facility is about 50 miles from the transfer station in Seattle. It is receiving about 250 to 300 tons/day of SSO. (Permitted capacity of Lenz Enterprises is 75,000 tons/year.)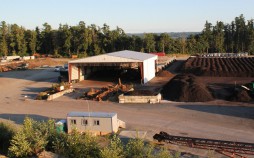 Lenz Enterprises, in Stanwood, Washington, has gradually expanded into new feedstock streams since it opened a composting facility in 1976. The Lenz family owns a wholesale beef packing company, and began composting as a way to manage manure and paunch from that operation. In the mid-2000s, Lenz Enterprises decided to process other organic waste streams at its facility, including source separated food waste and yard trimmings. It applied for a Solid Waste Permit from the Snohomish County Health District, which would allow the facility to receive food waste.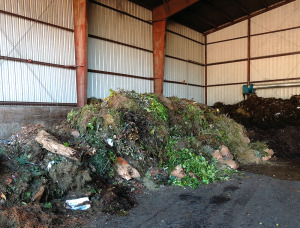 The first stage of composting is done in bunkers (left) with ECS low-friction aeration floors (middle). Once a bunker is filled, the system begins automated operation with reversing aeration mode (positive and negative). Each pile is capped with screened overs that have been run through the site's Peterson grinder (right). After a pile has met PFRP, it is moved to an adjacent mass bed.

Odor Monitoring for Composting Order of Approval
In addition to a solid waste permit from the Snohomish County Health Department, Lenz Enterprises also has an Order of Approval from the Puget Sound Clean Air Agency.  This approval required installation of an odor monitoring system that measures and reports results in odor units (OU)/cubic meter for two operational areas — the aerated static pile bunkers and the mass bed processing area. To comply, the company installed an Odotech monitoring system, which has electronic noses (e-noses) positioned near the odor sources — one located on the back wall of the ASP zones and the other on the northwest corner of the organics receiving building. Sensor data is automatically logged by the Odotech system and Lenz uses this information to develop reports for the agency.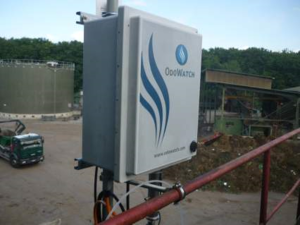 Ready to know about Food Scraps Composting Odor Monitoring ?
__________________________________________________________
Curious about electronic noses ? Please download our free white paper.