Characterization via chemical analysis and olfactometric characterization (sensory) both have advantages and drawbacks. Despite the known benefits of the conventional chemical analysis characterization (accuracy, reproducibility, familiarity, performed by numerous analysis labs, etc.), olfactometric measurements are generally to be preferred due to the subtleties of "real" odors (multicomponents):
Odors are normally complex blends of numerous compounds with very low concentrations (perception thresholds often bordering detection limits of established methods);
There are interactions between mixed odorus compounds, unfortunately there are no models to predict this synergy on the perceived odor which can be positive (neutralization) or problematic (co-amplification)… 1 + 1 IS NOT 2 here!;
Although perceived as less expensive initially, chemical analysis for multiple compounds can become costly if many different analysis are required and especially if multiple on-site interventions are required (unknown levels often leads to under/over shooting the analysis' range).
Which one will give you the most relevant information for your budget? Should you go for chemical analysis, olfactometric analysis or both?
The main advantage of olfactometry for odor measurement is that it actually derives a value from the direct correlation between the odor and the sensitivity of the detector being used (and the subject of the odor management efforts), i.e. the human nose.  However, there are limitations to the method which can be mitigated by proper sampling approaches (sensitivity to humidity in the sampled stream, variability, degradation of the sample, etc.).  There are established sampling protocols and analysis methods (i.e. EN 13725, ASTM E679-04, CUM, Probit) that guide the approach.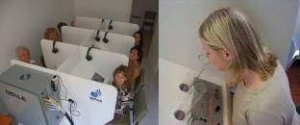 Olfactometer and jury in action
Through the use of a dynamic dilution olfactometer, an odor sample can be analyzed for its:
odor concentration;
hedonic tone;
odor intensity;
perception thresholds.
There are situations where a combined approach (chemical and olfactometry) may be interesting (i.e. known predominant compound) or required (i.e. odor abatement equipment sizing/design). However, for measurement of odor emissions, the most useful method is olfactometry in the vast majority of the cases.
You have a question? Talk to one of our professional experts.