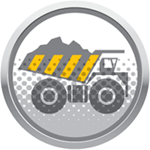 Harvesting resources in harmony with communities
Harvesting natural resources and sound environmental management are two key elements targeted by the mining industry. The processes used and the type of operation often involve various chemical agents that can cause odour nuisances. Drainage, processing water treatment or extraction processes can all have an impact on communities, even far from the mining site. Fine particles (PM 2.5, PM10, etc.) may also be emitted and have an impact on the environment and citizens.
Expertise
The services provided by Odotech's team of experts can guide operators through a site audit as well as an impact study and abatement recommendations. For this very specific and highly specialized sector, Odotech has key partners that can jointly meet all the stated objectives.
Real-time Monitoring
The OdoWatch platform provides the real-time atmospheric modeling required by the mining industry to manage odours, gaseous contaminants and particulates. This is a full-featured tool regrouping on a single platform all elements required to manage the environmental impact on site neighbors.