Harvest Power's Energy Garden in Central Florida is designed to simultaneously address four challenges with one integrated solution:
to recover energy and nutrients from food waste,
manage odors,
process biosolids beneficially
improve the fertilizer end product quality
Located at Reedy Creek Improvement District, this anaerobic digester processes 130,000 tons per year of biosolids, fats, oils, grease, and food waste and has 3.2 MW of installed power generation capacity and 2.2 MW of recoverable heat from a biogas-fueled combined heat and power system (CHP), plus class AA granular fertilizer and phosphorous-rich Struvite sold as a fertilizer additive.
The project involves several organizations
LOCAL PARTNERS: Reedy Creek Improvement District (RCID), Reedy Creek Environmental Services (RCES), Walt Disney World Resort, and all local participating hotels, restaurants, food processors and haulers.
PROJECT SERVICE PROVIDERS AND VENDORS: Bio-Conversion Solutions (BCS), Biorem Technologies Inc., Caterpillar (CAT Finance), Crystalactor, Entec Biogas GmbH, Environ, Inc., Florida Aquastore, Flottwegg, Golder Associates, Komline-Sanderson, Layne, Inc., Odotech, World Water Works Demon(TM), Ring Power Corporation, Sattler*. PUBLIC RELATIONS: Featured in BioCycle*, the front page of the Orlando Sentinel, the Orlando Business Journal, WFTV News 9, Green Lodging News, and on National Public Radio's (NPR) Morning Edition. 
Process Highlights
The major components of the Facility include:
Food waste pre-processing: food waste receiving pit and conveyance, depackaging, contaminant/inert material removal, and dilution of received food wastes to a pumpable slurry
Odor capture and treatment systems (Biorem), with continuous monitoring (Odotech)
Entec Biogas proprietary anaerobic digestion process
Biogas conditioning system with moisture and hydrogen sulfide removal
Digestate screening for enhanced fertilizer product quality
Digestate dewatering
Indirect thermal drying (Komline) using waste heat from a biogas-fueled combined heat and power system (Ring Power CAT), including back up propane system for emergency or supplemental fuel
Side-stream treatment of dewatering centrate including:
Phosphorus removal/recovery using a struvite reactor (Procorps Crystallactor)
Total nitrogen reduction using a proprietary sequencing batch reactor process and Anammox bacteria (Demon™ by World Water Works)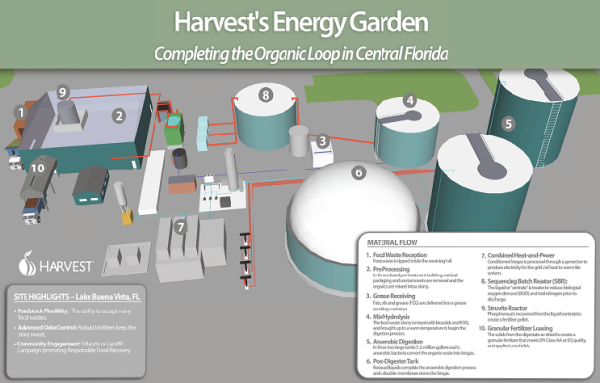 Innovative to Manage Odors
Reduction of odor excursions and/or odor events was one of the main objectives of the project.  As HPO ramped-up, RCID was able to discontinue Aerated Static Pile (ASP) composting operations for biosolids and food waste.  Also, at the same time as HPO was beginning operations, RCID modified the WWTP and diverted a sidestream of WAS to the headworks at a rate of about 0.1Q, which cut the H2S levels at the headworks significantly.  Finally the HPO odor control system collects potentially odorous air from the food waste receiving pit, centrate sump, FOG tank, dryer exhaust and other locations within the plant and applies biofiltration with activated carbon polishing prior to atmospheric discharge.
The facility is equipped with a four electronic noses for anaerobic digestion and real time odor monitoring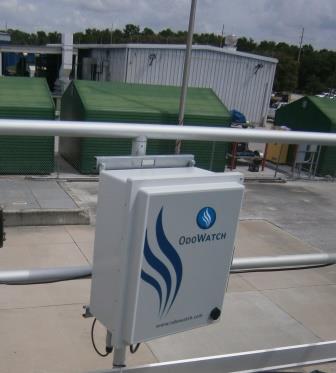 OdoWatch® – Odor Smart Monitoring system
24/7 odor measurement with eNoses
Software models the atmospheric dispersion and displays the site's odor plume
RCID has installed an OdoWatch system with 4 "e-noses" to monitor treatment plant, composting and HPO odor signatures and has been able to verify the odor reduction associated with the measures described above.  RCID has not experienced any significant odor events since the HPO project and other measures became active. 
__________________________________________________________
Curious about electronic nose ? Please download our free white paper