Installation of a network of electronic noses combined to atmospheric dispersion software at a Municipal Solid Waste management site made it possible to validate the capability of such a system to provide an objective quantification, in real time, of the odor perceived by the neighbours. The site located in southern France included a sludge composting area and a landfill site, both generating odor emissions. It comprises four reception racks for the fresh sludge, a mixing area, a fermentation area and a maturation area.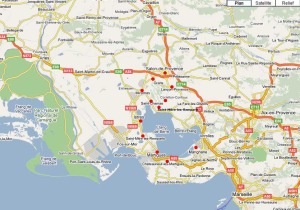 Three electronic noses were positioned at the site in order to measure continuously the emissions of the three major odor sources: the windrows of the composting area, the fresh sludge storage area and the municipal solid waste of the landfill site.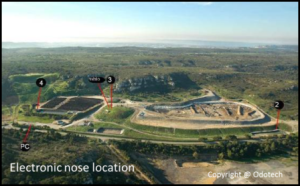 Comparison Electronic Noses Odor Observer Committee
The odor concentrations predicted by the odor monitoring system were compared with the responses of an odor observer committee that recorded the malodorous events perceived in the neighbourhood of the solid waste management site.
The observation results from the residents were compiled according to two criteria: the character (or type) of the odor and the level. The project ran from October 23 to February 25 the following year. For the 12 participating residents, a total of 10,056 observation data were recorded.
The comparison of these two groups of data showed that the odor monitoring system was able to evaluate the level of nuisances felt by the neighbours. When malodorous events were filed by the members of the committee, the electronic nose system had predicted significant odor levels.
Correlations could then be developed between the observations of the residents and the predictions of the odor monitoring system. The mean level of the neighbourhood exposure to odor-generating observations by the members of the committee was evaluated at 4.5 ou/m3.
Curious about Comparison of eNose and Odor Observer Committee?
This project was supported by the ADEME (French Env. Agency) in association with INERIS and conducted by AIRFOBEP.