In the context of odor management, communication is of special importance and should not be set aside.
Exposure to offensive odors raise questions about potential health risks, loss of property value and the fear of additional odor episodes. They can become a source of stress, frustration and anger, especially when the neighbors do not feel that their situation is taken care seriously. The lack of communication can increase irritation and cause a loss of trust in those responsible (plant operators, policy makers and officials).
To communicate your efforts to reduce odors, your mitigation objectives, the budgets invested and results achieved can help to reduce the feeling of injustice and powerlessness that some residents may develop. Too often in tense situations, some facility operators fail to communicate their plan of action and positive outcomes obtained. Although significant improvements have been achieved in terms of reducing the level of odors and frequency of exposure, the discontent in the community has not necessarily diminished because a lack of communication and trust.
Proactive communication through an odor observer committee (OOC) is an excellent way to promote the emergence of communication between the managers of the odor emitting sites and nearby residents. In the process of setting up an OOC, a group of volunteers from the community are trained to recognize and quantify odors and how to report odors in a consistent manner.  The OOC provides an effective communication channel between members of the community and the plant managers. This helps to convey odor mitigation plan objectives and odor observations relevant for environmental monitoring and management operations. On a regular basis, members of the OOC are invited to review the results of their participatory monitoring and actions implemented by the company.
As such, the company BFI Canada, part of Progressive Waste Solutions, operates a technical landfill in the Montreal's suburban. This corporation is serious about environmental monitoring: they mandated Odotech to execute their air quality monitoring (VOCs) and to carry their odor observer committee since 2005.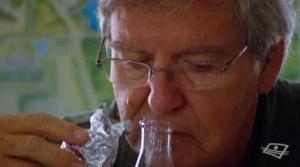 As another example of best-in-class operation, BFI invited last May 4th, the local communities for its third open house, which were both an awareness activity and a large family party. On the menu: games, discoveries, tips and information on the various activities carried at the landfill in Terrebonne.
Participants of all ages were invited to take part in a guided tour of the site and learn more about the landfill, the waste management operations, the biogas power plant, the new biomethane production plant, the green waste composting facility and wastewater treatment plant. There was also information kiosk on environmental activities including the monitoring of odors and VOC.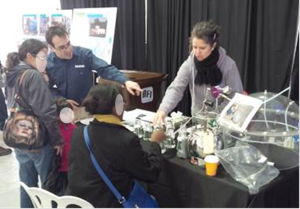 Odotech team members are explaining to local resident odor impact assessments, odors, odor monitoring, odor observer committee and ambient air VOC monitoring program.   
The Odor Observer Committees and open house days are great ways to communicate the efforts made ​​to reduce odors. Holding public meetings to present the results of odor impact study and continuous odor monitoring are also effective: whether you are at the planning phase of the project, at the implementation phase or during normal operation of a plant.
Use the nose of your neighbors as mobile odor sensors!
At the age of Web 2.0, OdoView is a new tool of participatory management and communication with your local community. Using a smartphone application, members of your community can bring you essential information to help you better manage your operations and measure the impact of your actions by reporting odors in their normal business wherever they are . Odotech adapts the Smartphone application to your specific context including a website and a hotline for parallel ways to report odors. The results are available to you online through a web console. Discover this new tool already adopted by several operators and municipalities.
Would you like to know more about the OdoWatch technical documentation?