Overview
A large wastewater treatment plant (WWTP) in Northern England treating 40 million gallons per day is using the OdoWatch platform to assist with day to day odour management at the facility.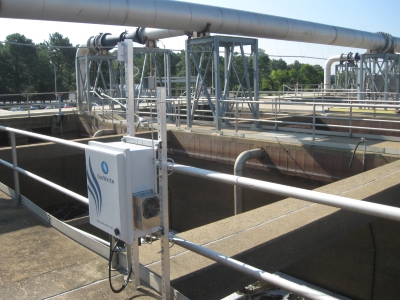 Background
The treatment processes at the facility include; Inlet Works, Grit/Grease removal, Lamella Settling and SBR Biological treatment. In addition, the site dewaters and digests sewage sludge, including imported sludge's. Since its construction the WwTW has experienced issues with odour complaints from the community.
Challenge
The site has many odour and H2S sources such as vents on pump stations, open basins, sludge reception pits, sludge treatment, odour control stacks and fugitive sources. Many of the sources have variable concentrations and emissions plus seasonal variations changing the character of the odour.
Solution
A site audit carried out by Odotech identified the key odour and H2S sources from which the OdoWatch system was designed using a combination of eNoses, SulfNoses, fixed sources, airflow sensors and the ability to identify the opening and closing of critical covers and doors in real-time along with the addition on an on-site metrological station.
Benefits
The OdoWatch system provides the operations staff and management with the ability to visualise the odour emissions from the various processes, understanding when odours travel off site and the impact they may have on the neighbourhood. Using the Alerts and Alarms tools available within OdoWatch the owner is informed of issues developing allowing early intervention. OdoWatch information is also informing process optimisation strategies and providing early warnings of process upset.
Odotech Support
The OdoWatch package includes ongoing support from Odotech to enable users to maximise the benefits of the OdoWatch system with software updates, helpdesk support and staff training refreshers being provided by Odotech's Europe office.