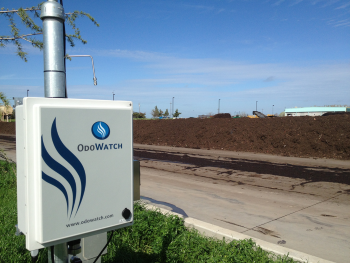 Overview
A composting unit in operation since 2004 in the Bouches-du-Rhône region in France has issues related to odours. This unit annually processes 30000 tons of sludge and 20000 tons of green waste. An OdoWatch platform was installed for real-time odour monitoring.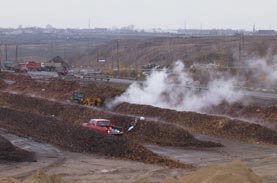 Background
On the site, the reception of waste, the mixing and the fermentation is done in a closed building with ventilation (size of 4000 m²).
The air is treated with a biofilter process. The compost maturation phase is outside on a 15000 m² plateform. The compost resulting from that process respects the NF44-095 standard. In required by the law, the operator completed an odour impact study and is actively trying to mitigate odours off site. Nonetheless, the community is still complaining since the prevailing winds and the particular topography of the area have tendency to keep the odours within the area.
The operator and the municipality received many complaints and, as a result, the production activities are difficult and this negatively impacts the quality of the produced compost. The operator contacted Odotech for help.
Challenge
One part of the installation are in urban area with activities outside. This makes it difficult to mitigate odour impacts off site. Moreover, future planned expansions were certainly not about to help this issue. An innovative solution was required to mitigate the odour impacts but also allow future development of the facility.
Solution
Odotech was given the mandate to complete an odour impact study. Sampling and olffactometry tests were conducted as part of this study. Modelling was done using with the site topography, three years of meteorological data and urban settings (i.e. buildings obstacle). The results confirmed that some neighbours were impacted by odours but within the parameters of the law. Nonetheless, complaints continued to be filed by the community. In 2011, another study was done to confirm respect of the law even after the expansion of the site.
Finally, the operator decided to install an Odowatch Plateform to monitor in real time the odour impacts of its sources on the neighbouring community.
Benefits
The Odotech methodology, in accordance to the regulation of April 22, 2008, was instrumental in evaluating the situation prior to construction and what would be the future odorous impacts. This analysis allowed the operator to optimize the selection of processes and equipment related to odour reduction.
Following Odotech impact study and implementation of an OdoWatch Platform, the operator benefited from the support of the municipality and the negative odour impacts are progressively reduced. Also, the operator received its operating permit.
Management & Support
The different odour studies and the installation of the Odowatch Platform was done by Odotech's subsidiary in France.